Char Dham Hindu Pilgrimage Tour Package
According to the Hindu scriptures the four most holy pilgrimages of India (Chardham Yatra) -Yamunotri, Gangotri, Sri Kedarnathji and Sri Badrinathji, collectively referred to as the Char Dham ( or four pilgrimage centers) of Hinduism. For centuries, saints and pilgrims, in their search for the divine, have walked these mystical vales known in ancient Hindu scriptures as 'Kedarkhand' If the scriptures of HINDU RELIGION are to be believed, the holy centers of Gangotri, Yamunotri, Badrinath and Kedarnath - collectively called the Chardham (meaning four sacred spots) - are the mostsacred of all pilgrimages. Undertaking a journey to these places will not just wash away one's sins but ensure release from the cycle of birth and death. THE honor conferred on these places is not surprising. For one, they are all in the icy Garhwal ranges and regarded as the most sacred of all Himalayan ranges. It is also said that heaven and earth converge in these holy spots, and to be born or die here is a boon only the very fortunate have. The Chardham must be visited from left to right - beginning with Yamunotri, going on to Gangotri, Kedarnath and culminating the journey at Badrinath. This route follows the Hindu tradition of parikrama or clockwise circumambulation.
Duration : 11 Nights / 12 Days
Destinations : Delhi - Rishikesh - Yamunotri - Gangotri - Kedarnath - Badrinath - Haridwar - Delhi

Day 01 : Delhi - Haridwar - Rishikesh (240Kms)
Pick you from your convenient place. Departure for Haridwar. Holy dip in Ganga and break for lunch,proceed for Rishikesh. Evening sightseeing of Rishikesh. Overnight stay at Hotel.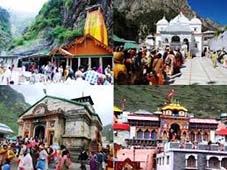 Day 02 : Rishikesh - Barkot/Syanchatti/Hanumanchatti
Early morning leave Barkot/Syanchatti/Hanumanchatti. Overnight stay at Hotel.

Syanchatty : Is a scenic spot along the bank of river Yamuna that which makes a lovely sight enroute to Yamunotri

Day 03 : Barkot/Syanchatti/Hanumanchatti -Yamunotri - Barkot/Syanchatti/Hanumanchatti
Early morning 14 Kms trek for Yamunotri (6540 mts above sea level). Darshan and pooja and back to Barkot/Syanachatti/Humanchatti.

Day 04 : Barkot/Syanchatti/Hanumanchatti - Uttarkashi
Early morning departure for Uttarkashi.Visit the famous temple of Kashi Vishwanath. Overnight stay at Hotel.

Day 05 : Uttarkashi - Gangotri - Uttarkashi(200Km)
After breakfast leave for Gangotri darshan and pooja, enroute Gangnani hot water spring Gangotri ganga snan and Overnight stay in Uttrakashi.

Gangotri : Gangotri temple is 18th Centuri temple dedicated to Goddess ganga. It is located near a sacred stone where king Bhagirath worshipped Lords Shiva. Ganga "Deva Yagna" hear to atone the death of their kinsmen in the epic battle of Mahabharat. The temple is an exquisite 20ft.high structure made of white granite.

Day 06 : Uttarkashi/Gangotri - Rudraprayag/Guptkashi
Morning drive to Rudraprayag/Guptakashi. Overnight stay at Hotel.

Day 07 : Rudraprayag/Guptkashi - Garikund - Kedarnath
Morning drive to Gaurikund and 14Km Trek to Kedarnath, Ram Bara is the place where one can take refreshment it is 7Kms away from Gaurikund. It is belief that when the Pandavas were on the way to Swarg in this place the LORD SHIVA Give them darshan & then Pandavas Constructed this Glorious Temple. This is one of the 12 Jyotirlings of the country, overnight stay at hotel.

Day 08 : Kedarnath- Birahi / Tapovan/Rudraprayag
After darshan and pooja return back to Gaurikund. Overnight stay at Hotel.

Uttarakhand Tourism Day 9 : Ruderperyag/Tapovan - Badrinath
Early morning leave for Badrinath, darshan, Pooja. Overnight stay at Hotel.

Badrinath : Cradled in the twin Mountain ranges of Nar and Narayan is the holies of the four main shrines-Badrinath along the left bank of Alaknanda with the towering Neelkanth peak as the splendid backdrop. Once the spot was carpeted eith "Badri"or wild berries and hence was famous as Badrivan Legend has it when the ganga was requested to descend to earth to help suffering humanity, the earth was unable to with stand the force of its descent, There for the mighty ganga was split in to 12 holy channels, Alaknanda was one of then that later became the abode of Loard Vishnu or Badrinath.

Day 10 : Badrinath - Joshimath/Srinagar.
Early Morning departs for Joshimath/Srinagar. Overnight stay in Hotel.

Day 11 : Joshimath/Srinagar - Rishikesh/Haridwar
After sightseeing in Rishikesh/Haridwar, Pooja,& Aarti.Overnight stay at hotel.

Day 12 : Rishikesh/Haridwar - Delhi
Early Morning departs for Delhi, Tour Conclude
CHAR DHAM TOUR PACKAGE COST
Type Of Vehical
Tourist
Deluxe
Standard
Tempo Traveler Non AC
10
Rs 15400/person
Rs 12600/person
Tempo Traveler AC
10
Rs 14700/person
Rs 12050/person
Innova
7
Rs 16999/person
Rs 13650/person
Innova
6
Rs 17999/person
Rs 14999/person
Qualis/Tavera AC
7
Rs 17300/person
Rs 13999/person
Qualis/Tavera Non AC
7
Rs 16300/person
Rs 12999/person
Qualis/Tavera AC
6
Rs 18300/person
Rs 15000/person
Qualis/Tavera Non AC
6
Rs 17100/person
Rs 13800/person
Indigo AC
2
Rs 29050/person
Rs 24200/person
Indigo Non AC
2
Rs 25750/person
Rs 22400/person
Indigo AC
3
Rs 22200/person
Rs 18800/person
Indigo Non AC
3
Rs 20999/person
Rs 17600/person
Indica AC
2
Rs 25050/person
Rs 21700/person
Indica Non AC
2
Rs 23250/person
Rs 19900/person
Indica AC
3
Rs 20450/person
Rs 17100/person
Indica
3
Rs 19250/person
Rs 15900/person
Extra bed Supplement child 5-12 Year
Rs.4,500/Person
Rs.2,999/Person
Char Dham Hotel Details
Deluxe Hotels
Standard Hotels
Haridwar – Khanna Palace / Gyan Heritage (A/C)
Haridwar – Hotel Parakh / Jewel (DBR)
Barkot – Hotel Chauhan / Athithi (DBR)
Barkot – Hotel Himalayan / Hotel Dipin (DBR)
Uttarkashi – Hotel Shivom / Mahima (DBR)
Uttarkashi – Hotel Akash Ganga / Hari Om (DBR)
Rudraprayag – Monal Resort (Dlx. DBR)
Rudraprayag – Shangrilla Resort (DBR)
Kedarnath – Hotel Punjab Sindh Awas (DBR) / Merut Mandal
Kedarnath – Himachal House (DBR)/Merut Mandal
Badrinath – Hotel Narayan Palace (DBR)
Badrinath – Hotel Yoga / Bholagiri (DBR)
Joshimath – Hotel Mount View (Dlx. DBR)
Joshimath – Hotel Sai / Kamet (DBR)
Kirtinagar - Hotel Riverside Resort
Kirtinagar/ Srinagar – Hotel Prachi / Shree Yantra
Rishikesh – Hotel Tapovan
Rishikesh – Hotel Aryan / Raj Palace (DBR)
THE ABOVE TOUR COST:-
- Hotel accommodation
- Bus, car, Toll Tax, parking
- Triple bed, Four Bed, and Double bed at every destination

THE ABOVE TOUR COST DOES NOT INCLUDE:-
- Any portage, entrance fees to places of visit,
- Damages/ claims of any kind, Expenses of personal nature like telephone calls, laundry bill etc.
- Meal,Any other services note mentioned above.
- Dolly / Palki, pony riding, Cable Car rides,3.09%Govt Service Tax

CANCELLATION & OPERATIONAL POLICY:-
No cancellation charges 20 days before the starting date
50% between 20 days to 10 Days
No refunds there after.

If any part of Packages is not availed, refunds cannot be claimed for and neither is any part of Packages exchangeable with some other services. In case extension of a tour is required, supplement as applicable would be paid directly to us by the clients.

We sincerely hope the above information is in order and as per your requirement. Incase if you need any further information or clarification please feel free to get in touch with us. Your earliest reply in this will help us to get your reservations confirmed without any hassles. We recommend you to forward us the Demand Draft as soon as possible in advance in order to confirm your booking from our end. The Demand Draft will be drawn in favor of "Uttarakhand Tours & Travels" payable at New Delhi.