Uttarakhand Tourist Places - Dehradun
General Information
Area : 300 sq.kms.
Altitude : 640 mts.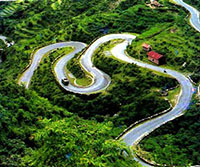 Shopping Centers Paltan Bazar (Posh market)
Rajpur Road Market
Astley Hall
Nestled in the mountain ranges of the Himalaya, Dehradun is the Capital of Uttaranchal. It is one of the most beautiful resort in the submountain tracks of India, known for its scenic surroundings. The name Dehradun is a collection of two word "dera" meaning Camp and " dun" meaning valley.
Said to be one of the oldest citites in India, it is believed that lord Rama and his brother did penance here for killing Ravana, the demon king. During the 17th and 18th centuries Dehradun changed hands several times: Guru Ram Rai retreated here from Punjab, the Mughal Governor Najib-ud- Daula occupied it from 1757-1770 and the Gorkhas overran it on their westward expansion before ceding it to the British in 1815. Under the British, Dehradun became an elite town with many a fine institution like Forest Research Institute, Doon and Welham Schools, Many more, like the ONGC and Wadia Institute of Himalayan Studies, were added in time. Dehradun has now become an important tourist destination.
Accessibility
Air : The nearest airport is Jolly Grant, 24 kms from Dehradun.
Rail : is connected among other places, to Amritsar, Howrah, Bombay, Delhi, Lucknow, Varanasi and other major cities.
Trains : 4309/4310 Ujjain-Dehradun.
2019/2020 Bombay-Dehradun.
4041/4042 Delhi-Dehradun.
4265/4266 Varanasi-Dehradun.
3009/3010 Howrah-Dehradun.
2017/2018 Delhi-Dehradun.
Road : Dehradun is connected to other parts of India with a wide network of road route.
Local Transport Services : Private Bus Services, Tempo (Vikram), Auto Rickshaw, Tonga, Cycle-Rickshaw & Taxi